Fin stabilizers are an essential piece of equipment—especially for passenger vessels where stability, safety, and comfort are of increased importance. However, they have an unfortunate negative effect on fuel efficiency due to drag caused when in operation and increased water resistance created when the fin stabilizer box is opened. Traditionally, fin stabilizers only had an 'on or off' mode, and decisions on when to use or retract them relied on the experience and judgement of the ship's captain. This would often result in them being constantly extended, even when they were not necessary. New technologies are entering the market to help ship operators decrease the impact on fuel consumption that fin stabilizers have, such as a stabilizer cover. A new software solution is currently being tested that advises crew how to use fin stabilizers most efficiently: SKF EcoMode.
A simple way to make a big impact
EcoMode works in cooperation with the control systems on a ship bridge. By monitoring pitch, the solution determines flow direction and obtains realistic drag data. Combining this information with other parameters, such as roll and vessel speed, the software then delivers recommendations for action. Actions such as adjusting fin angle, retracting both fins, or housing just one fin—which still provides enough stabilization in many cases. The user then has the ability to either accept or decline the suggestions to suit the situation.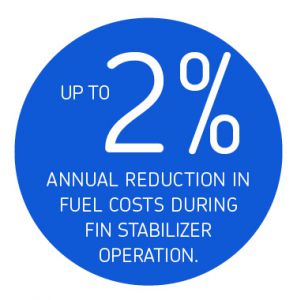 Putting the solution to the test
EcoMode is being developed in close cooperation with a leading cruise operator and a renowned ferry operator. SKF suggested EcoMode to these operators when they requested a more fuel-efficient system that would not compromise passenger comfort. The solution has the ability to save up to two percent of fuel costs in the space of a year, representing a huge reduction for larger cruise lines especially.
The product has now been installed on two ships, a cruise liner and a ferry, each requiring different settings in terms of roll angle and stabilization control. This provides an excellent opportunity to test the solution in varied conditions. EcoMode is of great benefit to both vessels, prompting crew members with alerts to retract stabilizers to decrease drag and increase efficiency.
EcoMode may be at a commercial stage but we will treat the solution as a 'living product', continually improving it based on practical research.
SKF will continue research to ensure any possible improvements or industry changes are integrated into the software. For example, incorporating weather data and time zones would improve accuracy by enabling the solution to better adapt to a ship's surroundings. It could, for instance, allow more roll during times where passengers are sleeping or increase stability when a ship is heading into stormy waters. SKF is already testing these features and will make them available as an update.
In addition, rather than being a purely recommendation-based solution, these actions could be controlled by the software if the bridge crew chooses to use it as a semi-automatic system. Changes such as these are easy to implement since the solution is based on programmable logic controllers (PLC). Any new features can be transferred using a simple SD card and would not necessarily require an engineer to board the vessel.
Is the solution readily available?
EcoMode is already commercially available as a retrofit solution or new installation but is still undergoing improvements. SKF strives to have any additional functions integrated into the product before October 2018, when its large cruise customer will be making a world voyage. This presents an excellent chance to gather data and analyze the software on ships sailing across international waters.