In an ideal world, sterntubes would never leak, and shipowners would be able to use whichever oil they liked to lubricate the propeller shaft. In the real world however, ships consume 2.6 litres of sterntube lubricant per day. That's an average: in practice some ships lose up to 20 litres a day and this has been identified recently as a significant source of ocean pollution from ships.
There are a wide range of sterntube lubricants on the market today. Often, to simplify procurement and shipboard storage issues, this may be the same oil that is used to lubricate the internals of main engines and auxiliaries. But there are other options.
In 2013, the US Environmental Protection Agency introduced an updated version of its Vessel General Permit which requires all vessels more than 79 feet long to use environmentally acceptable lubricants (EALs) in all oil-to-water interfaces on ships operating within three miles or less of the US coast. Since EALs are significantly more expensive than other sterntube lubricants, this means that ships cost more to operate in US waters. But this is certainly not as costly as being caught using the wrong lubricant. The VGP permits fines of up to $37,500 per day of operation for polluting.
Sealed away
In fact, the loss of expensive  synthetic ester-based EALs is a great example of the familiar metaphor: "flushing money down the drain". Does it not make sense, therefore, to invest in a system where there are no oil-to-sea interfaces and therefore no risk of leaks? Then, it does not matter which lubricant is used.
One example of an air seal system, Simplex AirSpace, features a sequence of chambers—one containing sea water, one air, and one lubricant. In the water chamber, seawater constantly flushes in, cooling the sealing rings and dissipating the constant build-up of friction heat generated by the propeller shaft rotation.
The air chamber separates sea water and oil, and a control panel regulates the pressure inside the void space, depending on the vessel's draft, ensuring it is set below sea water pressure to prevent both air and oil from escaping. The innermost chamber — the pressure-controlled oil chamber — is filled with lube oil. This independent oil supply ensures the best lubrication and monitoring of the aft seal.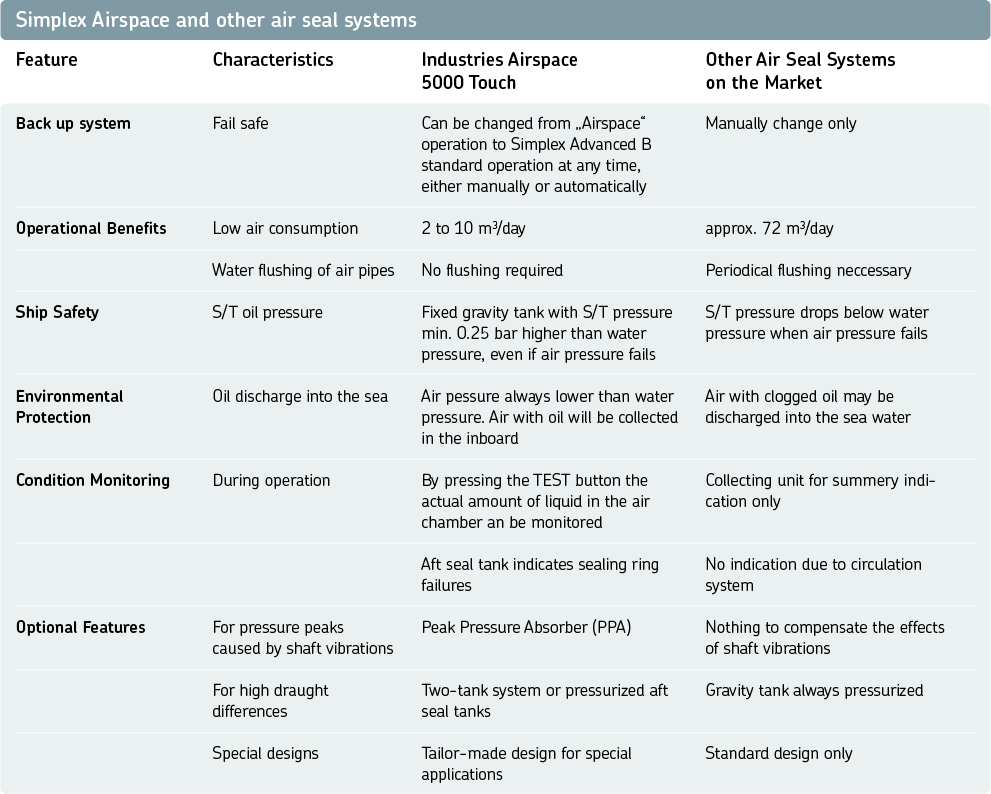 There are a number of advantages to this approach. Oil pollution and leaks are completely prevented because there is no direct oil-to-sea interface, as  verified by classification society DNV GL. Similarly, there is no water ingress into the sterntube. This results in reduced environmental risk and cost savings because no oil escapes, ensuring cheaper lubricants can be used. It also ensures the best operational reliability of the sterntube bushes.
For ships trading in US waters, there has been no way around the higher cost of EALs – except for an air-seal system. New vessels can of course be fitted with this system very easily, and often are, but older vessels, typically around 10-15 years old, still rely on conventional sterntube seal systems which frequently need to be replaced at significant cost.  While some owners are unaware of it, retrofitting an air seal system, instead, is possible – with the help of an experienced project partner for the design, installation, commissioning and class approval – and can quickly pay back in reduced operating costs. But there is more than one reason to consider an upgrade.
The cost of inaction
Another key point should also be taken into account—resale value. A definite pattern can be identified in the market for similar ships with varying sterntube lubrication arrangements. Frequently, the value of vessels with oil-to-sea interfaces are lower than those with an air seal, or a water-lubricated sterntube – at least when it comes to those which might operate in US waters. A one-off capital investment in a system which does not require EALs in thesewaters, or the possibility of sterntube seal replacements, is often preferable to permanently higher operating costs.
The SKF Simplex AirSpace system is likely also to appeal to ship operators with vessels trading in polar regions. As global ice cover reduces both in area and mass, more ships are likely to take shorter routes between continents, particularly in northern waters. At the same time, exploration for the natural resources in these regions is becoming more intense.
The IMO's Polar Code lays down strict requirements to prevent any form of oil leakage. It requires vessels either to have water-lubricated sterntube installations, or to have another equivalent system in which there is no risk of any oil leakage.
We believe that a SKF Simplex Airspace installation offers a range of compelling advantages for most ship types, old or new. However, we believe that the economics relating to the choice between replacing sterntube seals to function with costly EALS, and a retrofitted air seal system, are beyond doubt.